Templates and Automation for Collaboration
Who is using templates?
We posted a poll on Twitter to hear more from the community around usage of templates in Microsoft 365. The majority of people are using templates only a little bit or are interested in starting to implement them at their organizations. For those using templates at their organization, most are using third-party template tools or PnP site provisioning.
Templating support
Your governance plan by creating a consistent look and feel in the visual hierarchy of your sites.

Leveraging your visual hierarchy consistently so site visitors don't need to relearn how to find information across the intranet.

Your brand identity as it can apply different site designs to ensure the right theme is applied. Color palettes for specific sites and projects can be used and applied across all sites.

Reducing IT burden by empowering the organization through self-service. If you build your governance into the templates, the organization can begin making their own sites with proper training and support.

A decentralized content model. Templates can include consistent information architecture supporting the ability to create centralized views of content across this decentralized model.
Templating also supports organizational maturity. It's a shift from doing things in an ad hoc way, to doing things in a systematic way: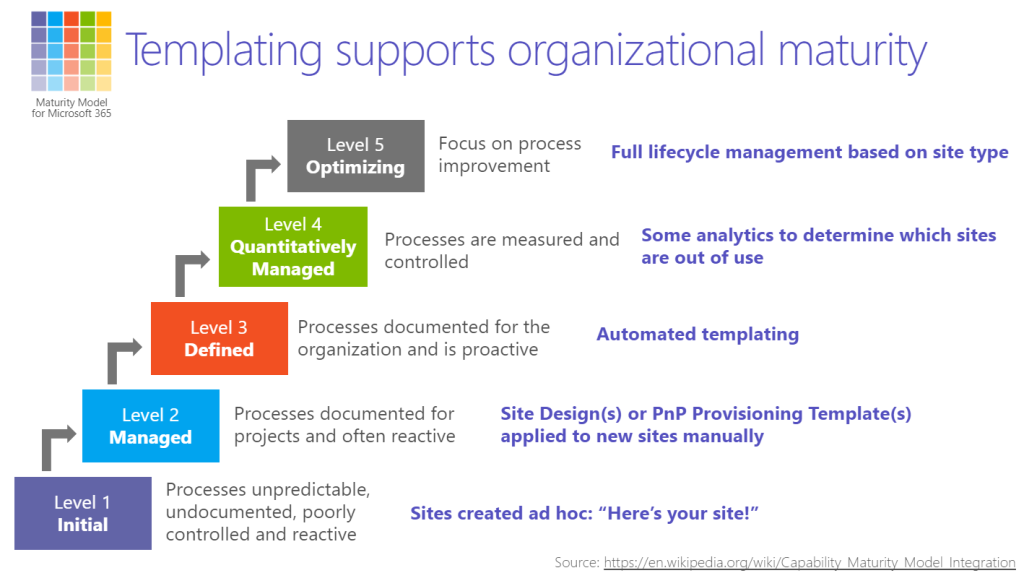 Microsoft 365 Template Options
At Sympraxis we often use this chart to guide our discussions around what technology to use when creating templates for a client. This chart also points out which templates require the use of code, which some organizations may not be familiar with due to the lack of an IT department or background.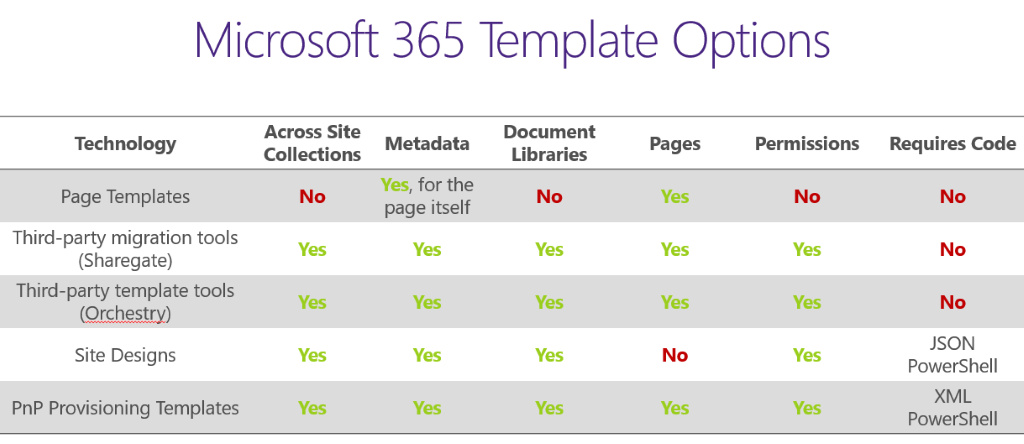 Common Information Architecture
Templates don't need to be applied across your entire intranet to be effective. Templates can focus on one business process or project-style and deliver an incredible impact by creating consistency.
For example, a property management company may focus on creating templates to manage their assets (i.e properties). The first step is to identify any common information across their properties. This can then be saved in a hub site which will serve as the entry point and connector for all individual property sites. If you are automating your provisioning, it can be helpful to create a SharePoint List in this hub site to serve as the directory of sites and trigger for any site provisioning.
This template for properties then creates a consistent structure in the information architecture so the content is organized identically for all buildings. In this example, we also built a custom web part to surface all property-specific information to this property only from the property hub site list. The goal is to make the information accessible that we need, wherever we are, when we need it.
For this example, properties can be replaced with any unit of work.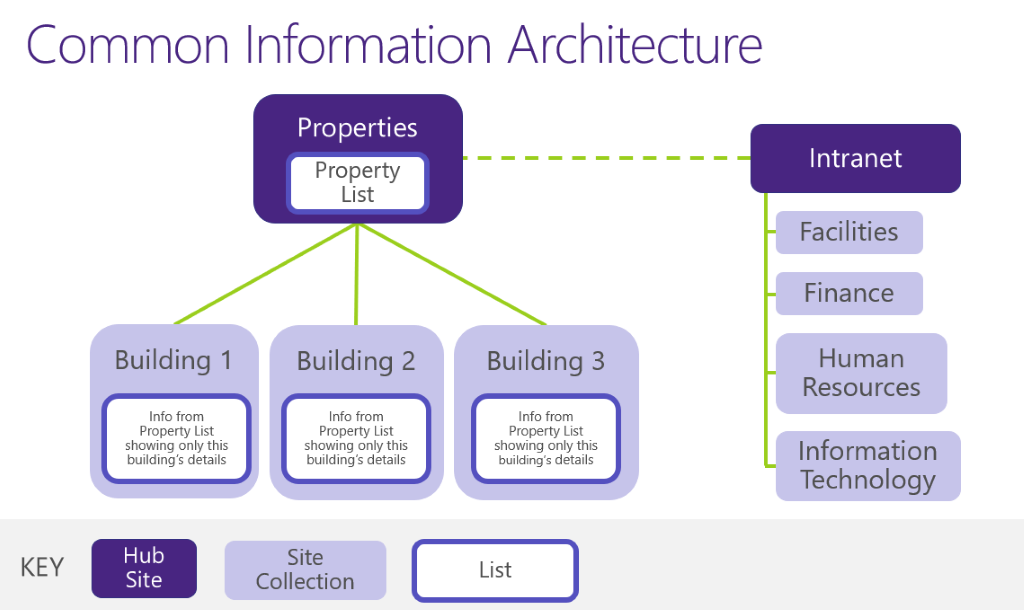 Third-Party Tools
Sympraxis has been working with Orchestry, a third-party template tool, to support organizations that may not have the technical resources to support PnP site provisioning. Orchestry provides an intuitive user interface to create site templates using out of the box technology expanding the possibilities for what you can do at your organization without using a single line of code.
---
What are the ways you are using templates at your organization? Continue the conversation on Twitter with the hashtag #AskSympraxis and mention @SympraxisC.