Intro to Microsoft Forms
What is Microsoft Forms
Microsoft Forms is a powerful tool that can be used for various data collection situations. Some of the capabilities Forms possesses include creating a survey or quiz, creating a form and inviting both internal and external users to respond and the ability to set responses as anonymous, view real-time results as they're submitted, and access to rudimentary built-in analytics to evaluate the responses. However, if you need something more robust, you can easily export the results to excel.
Use cases
Some of the most common use cases we've seen of Forms include feedback collection, user research that includes open ended questions or Likert-scale/quantitative methods, learning such as quizzes and assessments, process initiation such as business intake requests, recognition nomination, etc. and community involvement such as the Ask Sympraxis mailbox to submit your questions!
Comparison of different applications
Like most things in Microsoft 365, there is a spectrum of options that go from simple to more complex depending on your skill set and what you are trying to accomplish. The two most similar options are Forms and Lists. They both allow you to ask questions that produce data. However, you can format Lists using JSON, unlike Forms which is limited in the branding options, so you have more power over what it will look like. You can also insert graphics, change the header, format fields, etc. Power Apps is the next most complex in the spectrum. There you have a canvas app that gives you the ability to lay things out anyway you want. The last is a custom solution using the SharePoint Framework (SPFx). You can create a custom form that replaces the new, edit, and display forms. This new feature allows you to get very fancy, however it also requires a developer to implement.
Sometimes the conversation with Forms gets complicated because people group together where the data is collected and what happens to the data after. We suggest looking at this as two separate entities. The Form is where you collect the data. It is the user interface for data collection. Whatever happens to that content is really a separate set of thoughts. By default, the content is stored in Forms and there is no connection to any other data source like SharePoint. Data stored in Forms doesn't have the same retention policies and version history as data in SharePoint. It's our better practice to use a Power Automate cloud flow to copy the data from Forms to a SharePoint list.
Comparison of Forms and Lists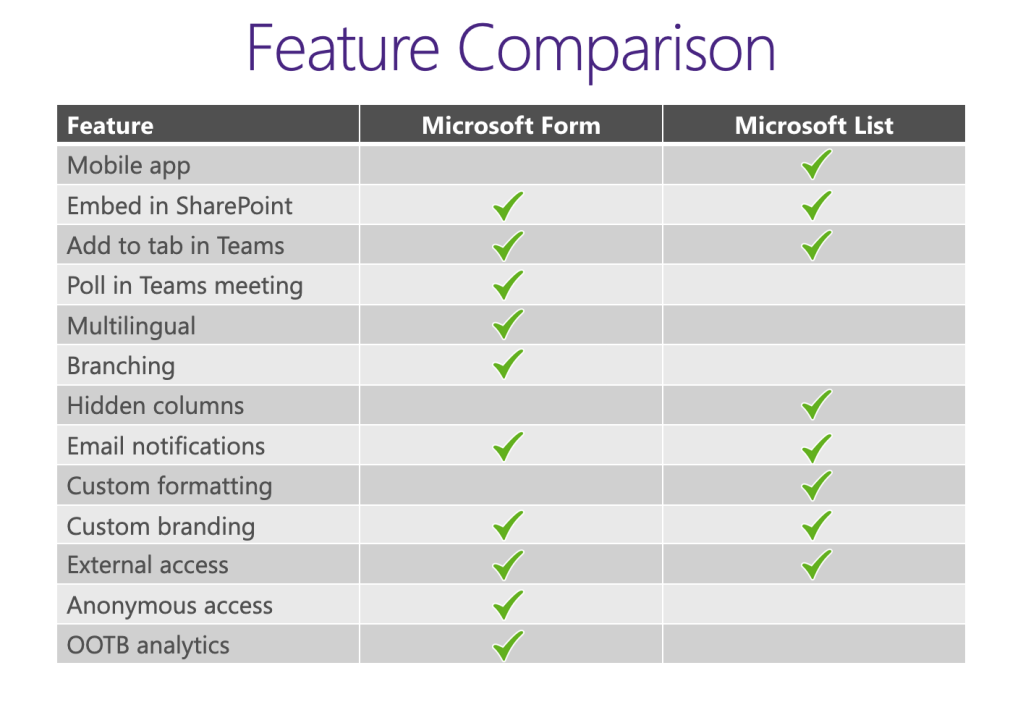 The above content displays a feature comparison of Forms and Lists. Although there is no standalone mobile app for Forms, you can easily access the application through your Microsoft 365 app. Both Forms and Lists can be embedded in SharePoint and in a Teams meeting, however only Forms allows you to create a poll in Teams. Lists does have a lot more customization options than Forms, however Forms does have some built in options such as theme. A crucial benefit of Forms is the capability for anonymous access. This can be incredibly important when conducting user research. Another positive of Forms is the quick out of the box analytics that are provided.
Better practices
Please keep in mind that responses in forms are not backed up anywhere unlike OneDrive or SharePoint. Therefore, if you delete your responses or delete the form, all of that information is permanently gone. Therefore, the durability of a Form is something to keep in mind. It's a good practice to have the data from the Form written over to Lists or to use Power Automate to keep that information saved somewhere else in Microsoft 365.
All Resources
Microsoft Forms

Microsoft Lists
---
Do you have any questions for us? Continue the conversation on Twitter with the hashtag #AskSympraxis and mention @SympraxisC.