Microsoft Ignite Recap - Fall 2021
Admin Updates
SharePoint Server Subscription Edition
First preview was announced summer 2021. It is now in General Availability. With the subscription edition you can migrate N-2. It is now licenses and more tightly tied to the Cloud.
Migrate Workflows
Added support for on-prem to the cloud. It is now possible to migrate workflows through the SharePoint migration tool.
Private Channels in SharePoint Admin
Now when you look at your active sites, there will be a column that shows the private channels each site has. This addresses the issue of keeping them private but making them discoverable for admins.

Report for Sharing Links
When we see people move to the cloud the admins often are concerned about what is being shared where. Now there is a report with the ability to see which sites are sharing with everyone.
Microsoft Teams Integration Updates
In the past two years the usage of Microsoft Teams has skyrocketed due to work remote and hybrid work scenarios. There were a lot of announcements around integration between Teams, SharePoint, OneDrive, and Yammer.
SharePoint/Teams Update
Right now, you can edit pages in Microsoft Teams, but you can't create them. They did announce the ability to create content from Microsoft Teams, which is great for our site owners. This will roll out January 2022.
OneDrive/Teams Updates
There is the ability to link a SharePoint library into your OneDrive with "Add to OneDrive" though you are currently limited to having this as a top tier folder. This will soon be available to add into folders, so users are able to nest and organize their SharePoint library links.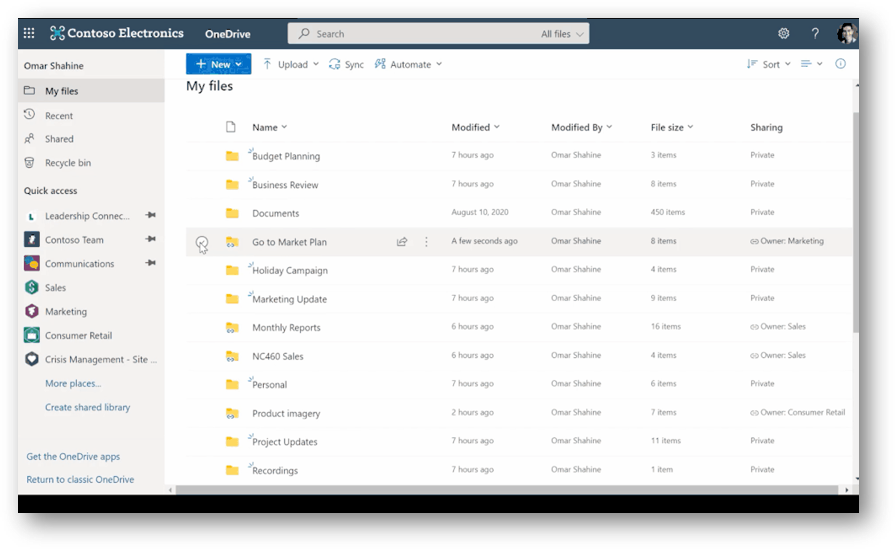 The "add to OneDrive" link will be added to the Teams file viewer as well, so users will be able to add SharePoint document libraries to OneDrive from Teams.
In OneDrive, they're going to be adding the ability to share to Teams from the "Share Dialog" menu.
Lastly, all your meeting recordings in Teams go to OneDrive, and by the end of the year, the video recording will be embedded with transcripts and comments, as well as a Table of Contents for anything presented with PowerPoint live.
Microsoft Teams Create Update
A new Create app is going to be added into Microsoft Teams. Similar to the create experience you have in Office.com upon logging in and seeing all the recent documents where you have the ability to create anything in Microsoft 365. It can be a SharePoint page, a OneNote Notebook, Excel Spreadsheet, etc.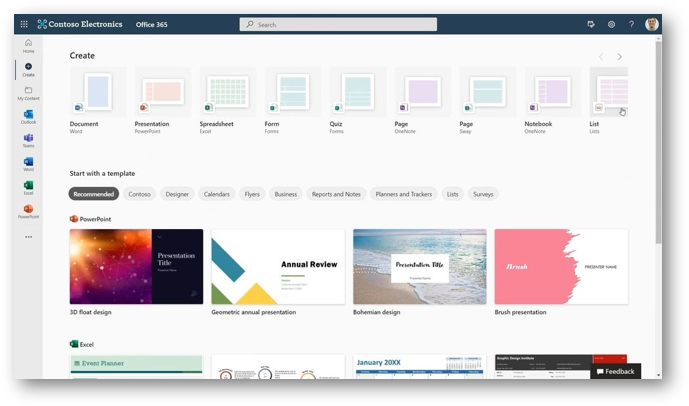 Yammer/Viva Updates
In the future, Topics in Yammer and Viva Topics will be integrated once you have a premium Viva Topics experience.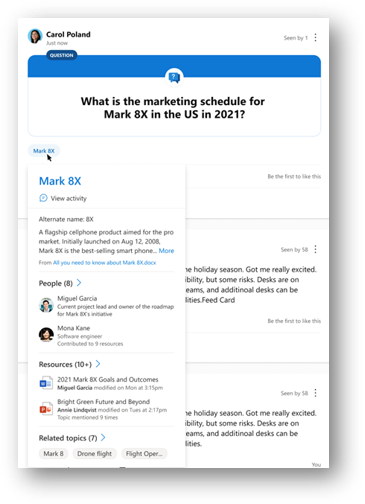 Viva Topics Updates
They announced new user experiences:
Yammer in preview by year end

Outlook Web Access in preview by year end

Teams by end of first quarter 2022

Topic cards will work in primary work surfaces
There will be additional capabilities for user opt-in/opt-out, related topics, segments, and types for grouping topics.
Microsoft is focused on improved analytics and Topic Center improvements for more rapid publishing. For the analytics we are expecting to see the ability to see all sites where I am identified as an expert or see all sites where no expert is identified.
Generally available by the end of the year will be French, German, and Spanish content crawls.
There were a few adoption tools released at Ignite: Use Case Catalog and Hackathon. Viva Topics is set up like Wikipedia so one of the first thoughts when setting up Viva Topics is "how do we get people involved." The Hackathon has some tips on how to begin that company involvement.
Other Viva Updates
All Viva components are available in general availability:
Viva Topics (knowledge base)

Viva Insights (health and well-being)

Viva Learning (micro learning)

Viva Connections (extensibility option)
The Viva components are available as a suite:
Ignite special of $9/user/month until August 2022 when it will be $12/user/month
Not specific to Viva connections but related to extensibility, SPFx 1.13 was released to general availability. With that comes the new Dashboard page Layout and new Dashboard web part which gives you the ability to start including ACEs (adaptive card extensions). There is a new PnP repo for the ACEs samples so you can try them in your dev environment.
Microsoft Loop in Teams
Microsoft Loop, previously Fluid Framework, was announced at Ignite and it's going to be a much bigger thing, but right now the only thing you can do is add little components through Microsoft Loop in Teams. It contains live typing from anywhere, real-time and users can see who is doing what. This would work well for a group that is brainstorming. This is one of those products where Microsoft is throwing it out there and more use cases may come later.
Profile Customization w/ AAD & Graph
In private preview, you will now have the ability to display AAD properties including Custom attributes 1-15 on the People card that shows up across the Microsoft 365 ecosystem. You can go into the setup and turn on different properties from AAD that you want to show. There could also be third-party content that come through graph-search connectors.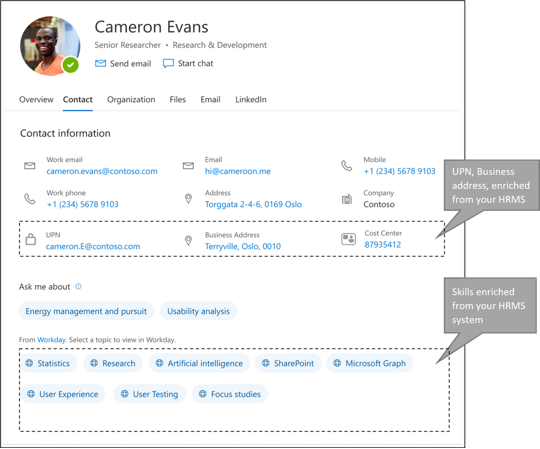 To get third-party data in for a connector that Microsoft did not put out there, the early way to do that is to sync profile data into SQL then set built-in graph connectors to get that data and bring it into search.
The Search Profile can also be extended with the exceptions that:
Not all profile properties are available

People Card only shows on web apps

Can only enrich existing properties

UPN must index properties in SQL so it knows what piece of data goes with what user
Resources
---
Do you have any questions for us? Continue the conversation on Twitter with the hashtag #AskSympraxis and mention @SympraxisC.