Microsoft Ignite Recap - Fall 2022
It is impossible to condense all of Ignite into a 30-minute session so we have rounded up these highlights. For more robust details and further explanation on the announcements, please check our resources. In this session, we focus on the three main areas that correlate best with the common work we do at Sympraxis: Administration, Intranet & Employee Experience, and Customization, Integration, & Extension.
Administrative Updates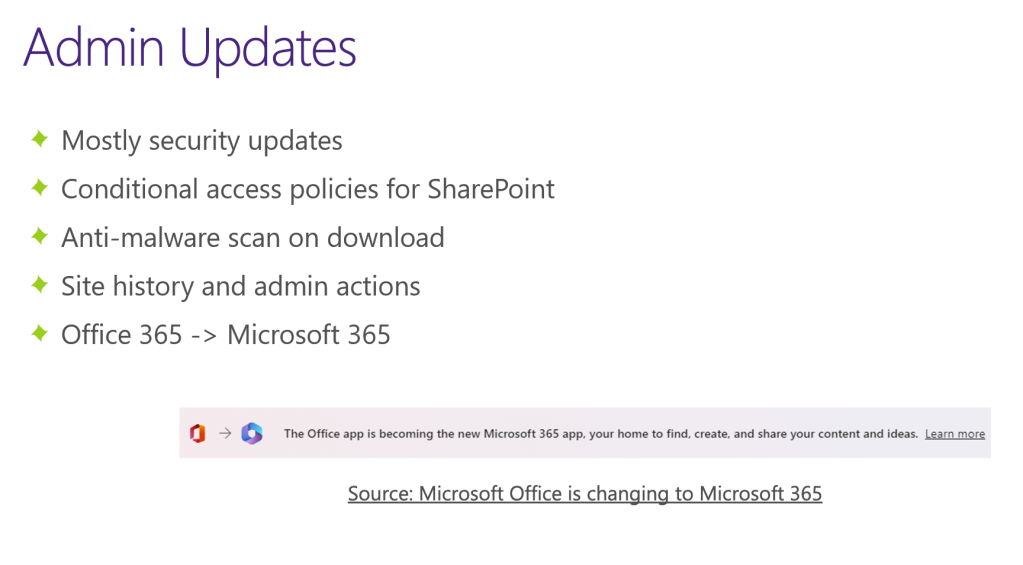 As many are aware, conditional access has been available in Azure for a while, however, it is new to SharePoint. Conditional access refers to the ability to craft an access policy that says a specific individual can get into a specific SharePoint library unless they are coming from a different location or device that does not have access.
As for the anti-malware scan on download, Office 365 will detect if a file is infected and will not allow for you to open it. You'll have to download that file so that your local anti-virus can inspect it.
Another update is better auditing for admin actions. However, this is only around for 30 days so if you want to keep good tabs on this, make sure you pull it somewhere else to save long-term.
A final administrative key update is Microsoft announced they are dropping the "Office" moniker. Instead of Office 365, it'll now just be called Microsoft 365. As far as we can tell, it's the exact same app just a different name and a different icon.
Intranet & Employee Experience Updates
Stream
We have been waiting for the full transition from Stream Classic to Stream within SharePoint for a while now. If you're putting your videos into Stream Classic, a separate solution accessible from the app menu, we highly suggest you start putting them into SharePoint document libraries. Document libraries are in context of a site, with other related information. These libraries are also inheriting permissions from the site so the people who should be managing this video content already have access. Bringing Stream into SharePoint will give you more options in how you share, use, and search your videos. For Stream Classic there is a migration tool, currently in public preview but accessible to most, to help you transition your videos from Stream into SharePoint. This is expected to be in general availability (GA) in the beginning of 2023. Once it does go to GA, there will be one year to migrate your videos from Classic so be sure to get them transitioned over!
Microsoft Syntex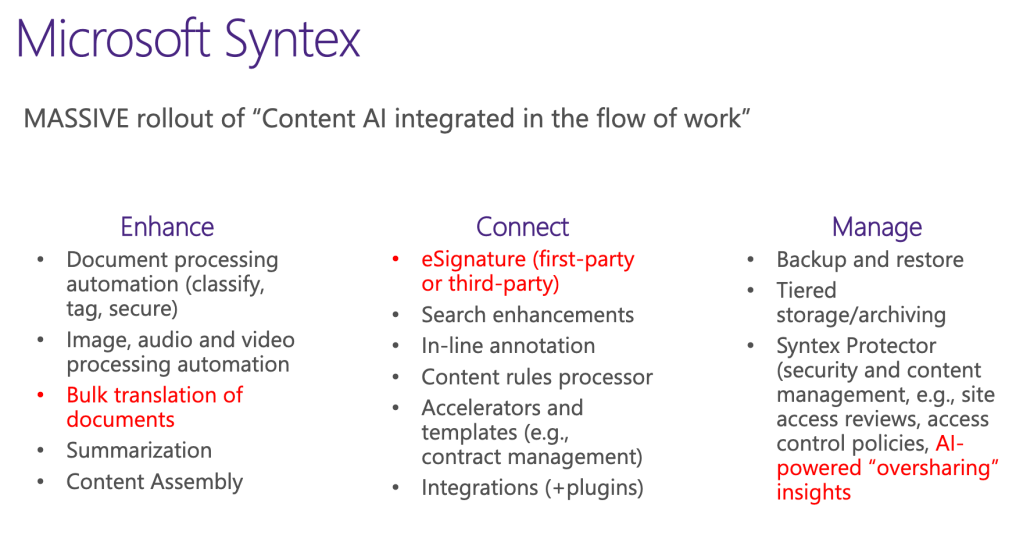 Microsoft Syntex, originally unveiled at Ignite in 2019 under the title of Project Cortex, uses AI to parse content stored in the Microsoft cloud. For example, Syntex can add metadata to documents based on the content within a document. The bulk translation of documents was a big announcement this year as this is often the primary pain point for companies trying to adopt a better information architecture through the usage of metadata.
We are especially excited about Syntex protector, the AI-powered "oversharing" insights which will give us reports that'll show where our content has been shared perhaps too broadly.
Viva
The Viva suite seems to be an ever-growing entity with additional modules becoming available nearly every day. Microsoft grouped these modules into helpful quadrants that better direct us to what each is used for. The quadrants are: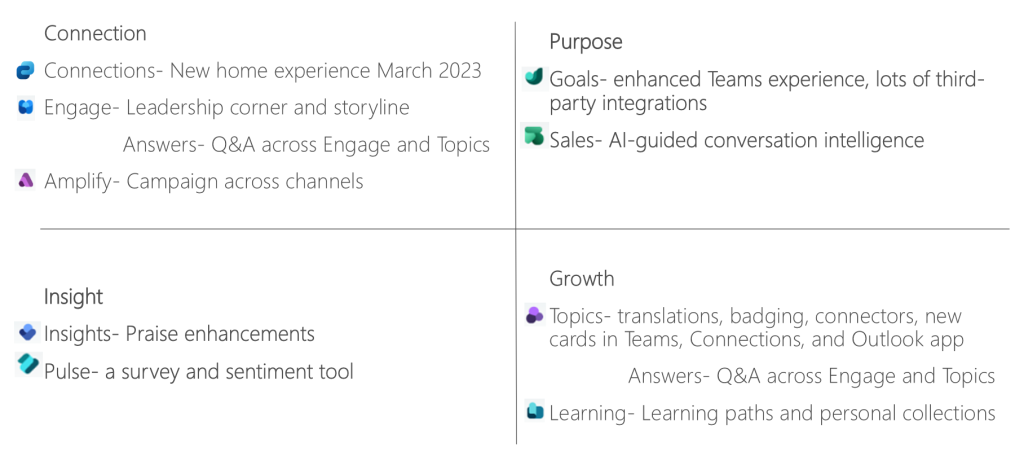 Connection: There is a new home experience coming March 2023 where Viva Connections will serve as the home for all Viva tools in Teams. Leadership Corner and Storyline have been added to Viva Engage (which is a rebrand of the Yammer Community App in Teams). Microsoft also announced the creation of Viva Amplify, which allows you to create campaigns across communication channels like SharePoint, Teams, and Yammer.
Purpose: Viva Goals is now allowing for third-party integrations allowing you to surface your information in other non-Microsoft applications such as Slack, Google Sheets, etc. Viva Sales allows you to work within Teams and integrates with your CRM system.
Insight: Microsoft announced Viva Pulse, which is a survey and sentiment tool containing smart templates, research-backed questions, and analytics. Pulse was described as "Coming Soon" but is not currently on the roadmap so we cannot predict when that will be available.
Growth: Viva Topics is continuing to mature and will soon be available in the Outlook desktop app. It'll also allow for translations to Spanish, French, and German. Viva Learning announced the release of learning paths which is a game changer in the discussion of Learning Pathways versus Viva Learning. Before this feature announcement, there were no options for connecting any learning content. Learning Pathways had the market cornered as the only option for combining multiple assets, which could be SharePoint pages or learn.microsoft.com content, into one playlist.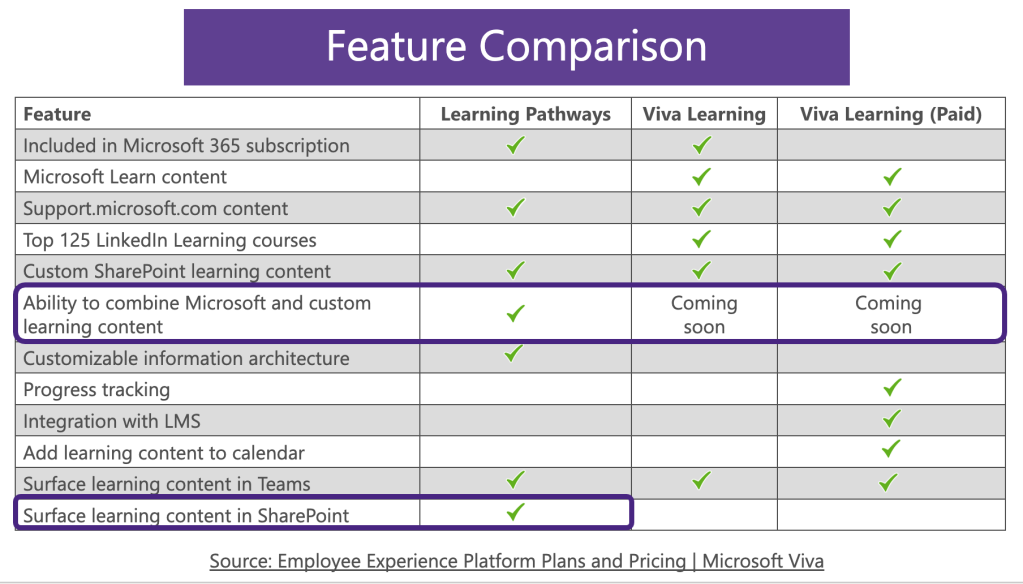 As of today, the only SharePoint content supported within Viva Learning is documents from one document library. This means you cannot include any documentation on SharePoint pages within Viva Learning. Lastly, we are hoping for an update to Viva Learning with the ability to surface learning content in the context of SharePoint. Currently, that is only supported by the Learning Pathways web part.
Customization, Integration, and Extension Updates
There weren't a ton of development specific updates in this announcement. The main announcement was the updated Teams SDK 2.0 for development of Teams apps and extensions. Version 1.0 has been available for a while with starts and stops to updates over the years but this new update is a consolidated rework of the SDK. One highlight is the ability to build extensions beyond just Teams but into Outlook and Office web apps. However, please keep in mind that support is limited right now to Teams in both the desktop and web client but Outlook and Office support is limited to the web client right now. Desktop client support for Outlook and Office is in beta right now with no concrete GA date. An additional development update has to do with deep linking in and out of apps. You can now add link unfurling into Outlook.
Teams Toolkit
If you're interested in Teams development, there was also an update to the Teams toolkit. The Teams Toolkit now includes the updated Teams SDK 2.0 which is essentially a jumpstart to your development within Teams. It works for both Visual Studio and Visual Studio Code with the ability to access various templates and to deploy in different environments.
Planner APIs
This is really a hint of a hint! This wasn't an Ignite announcement but something that was leaked on Twitter. We are finally seeing the planner API's (that existed, but only available through delegated permissions) soon to be available with application permissions. We've heard the official announcement on when these will be available will likely be late November, so keep an eye out for that information!
There was a tremendous amount of information gained from this Microsoft Ignite . Please submit to our mailbox any questions or topic ideas you'd like us to delve deeper into on another session of Ask Sympraxis. Mark your calendars for Nov. 15-16th of 2023 - the next hybrid Microsoft Ignite!
All Resources
Ignite in summary
Intranet & Employee Experience
Syntex
Stream
Administration
---
Do you have any questions for us? Continue the conversation on Twitter with the hashtag #AskSympraxis and mention @SympraxisC.