Empowering users while you implement Microsoft 365
This session of Ask Sympraxis focuses on different methods and steps you can take to empower users while you build your intranet and how to set up Microsoft 365. Not every suggestion will be pertinent to your organization, which is why we suggest starting with the Maturity Model and determining your current and desired levels! This session is also a great reference to come back to as your organization levels up in maturity.
The Maturity Model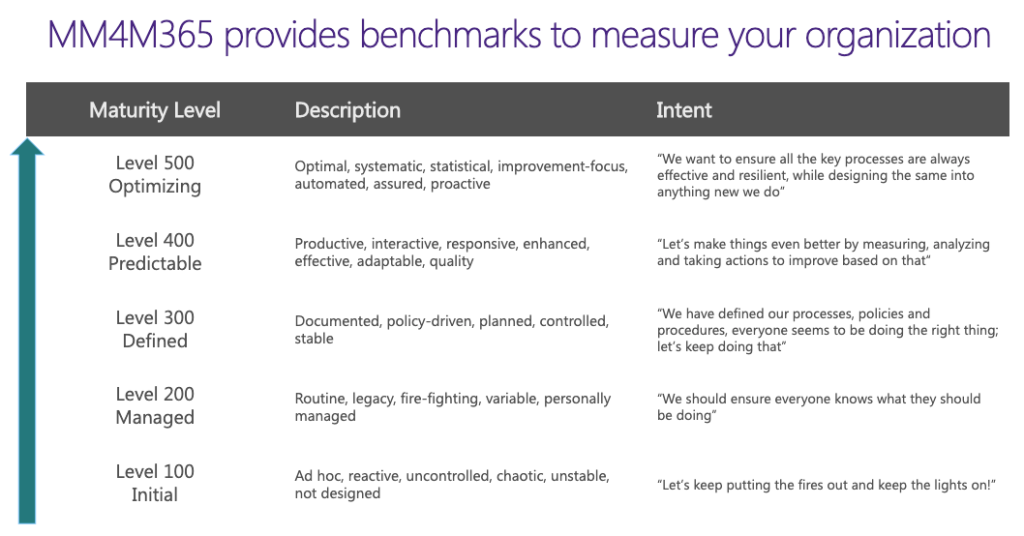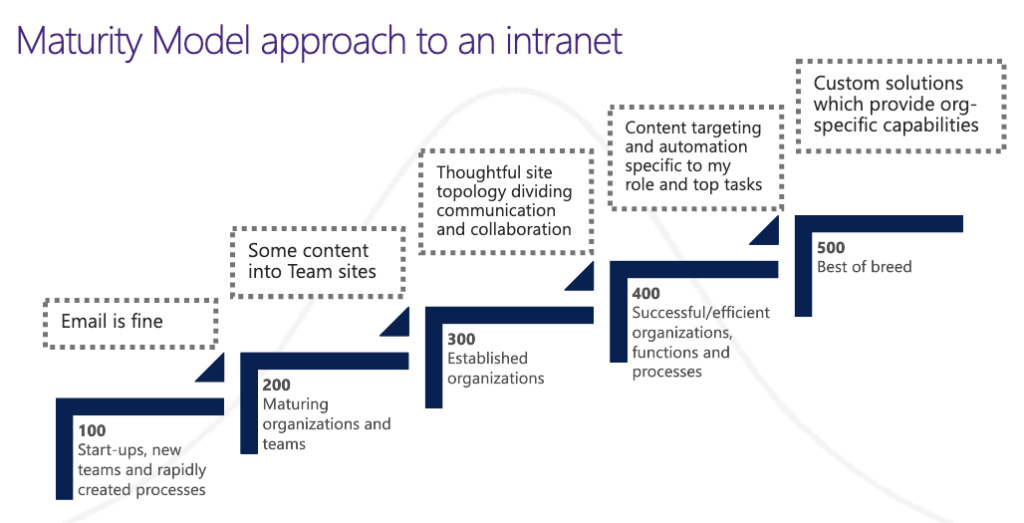 A lot of Microsoft 365 users aren't fully aware of all its powerful capabilities and/or aren't using it as fully or effectively as they could be. The Maturity Model for Microsoft 365, based on the capability maturity model, takes a holistic view of this technology and focuses on different business outcomes so you can distinguish your current state versus your desired state. These are broken down into five different levels of maturity for each of the various competencies. We often feature different maturity model examples in Ask Sympraxis. This week we are focusing on the different levels of maturity by discussing the impacts during an intranet build in relation to the communication and collaboration competencies.
Business administration
During an Intranet build it's common to have migrations from file shares into SharePoint and other Microsoft 365 tools. This is the perfect time to fix your information architecture including collapsing folders, adding metadata, maybe even scripting the creation of things and templatizing. You can also add security options which provide the benefits of multi factor authentication including conditional access, which creates different authentication experiences depending on the user.
Empowering content owners while building
Team site for content owners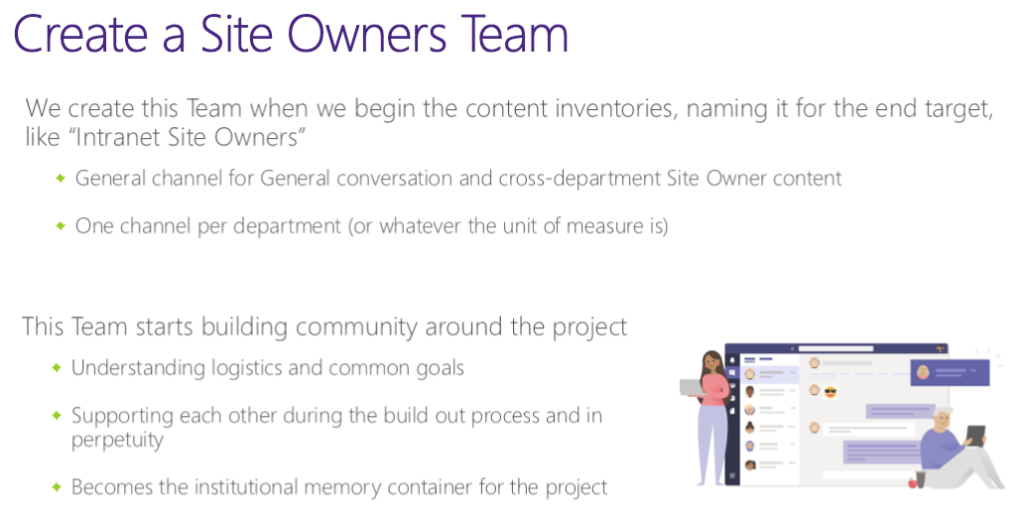 We highly suggest creating a site owners' team in Microsoft Teams while building. This community of site owners provides a place for general communication between departments and projects, a platform for support and questions, a place to discuss logistics and goals, etc. It's a powerful way to communicate during and after the build. This group may also be used to provide edit access, depending on your permissions structure and complexity.
Guidance and news on a communication site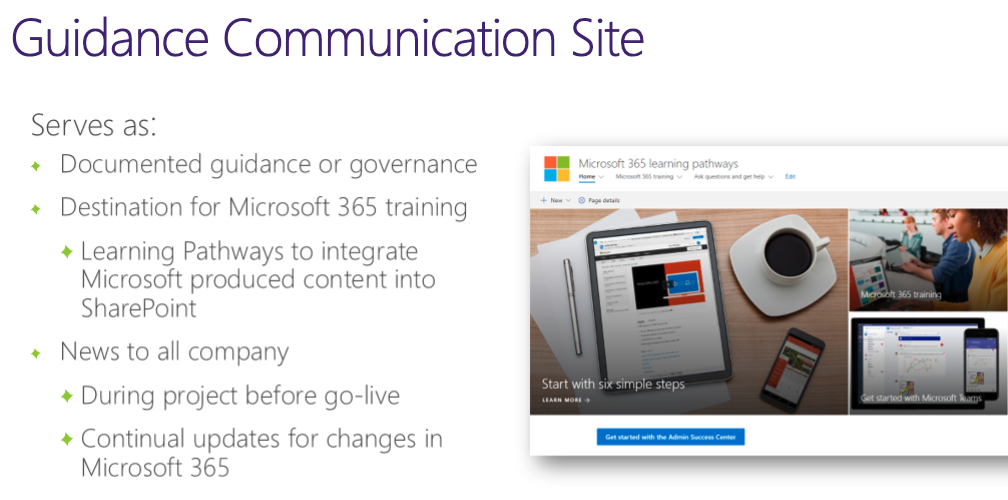 Often organizations will create a communication site about their Intranet. This is a great destination to post all documented guidance and governance including Microsoft 365 training, possibly with the use of Learning Pathways. This is also a great place to host your news and long-term communication for changes and updates, especially as your organization continues to advance up the Maturity Model.
Task management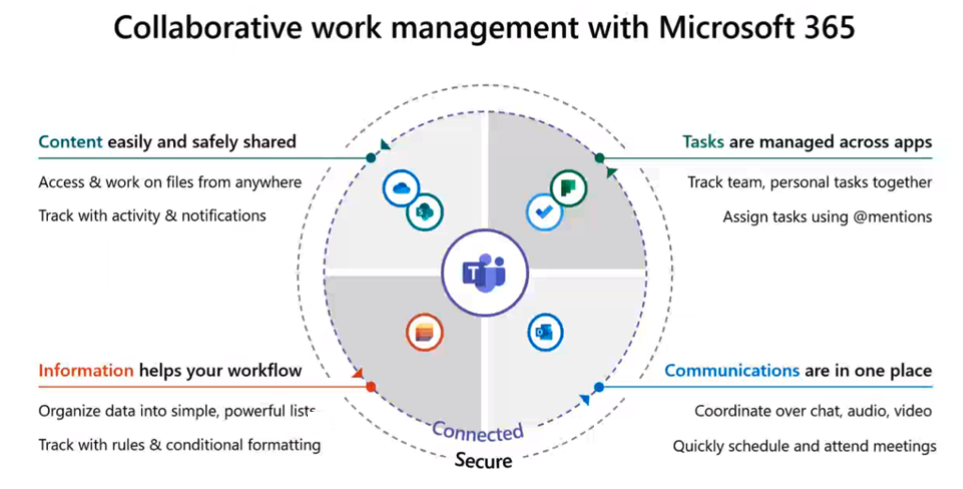 We suggest building beta tests of the different task management options in Microsoft 365 to your project, which creates a safe learning space for users as to what tools are available to them. Not everyone in your project may be familiar with the different integration points, so introducing this to them during the build is an opportunity for them to better understand what is at stake.
Team site for project core team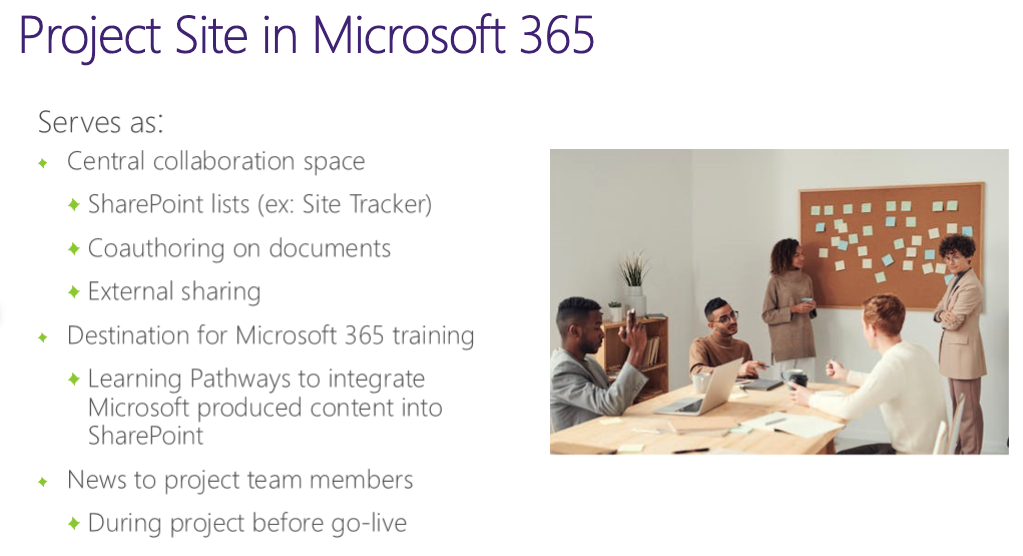 You may even decide to further delineate your build information to a separate project site. This may be open to your business sponsors or core team members that are separate from the site/content owners. This space can be used for additional Microsoft 365 online training that is more targeted for platform owners and therefore likely more administrative content versus what you have available on your guidance site. This also creates another space for news so that it's kept in a centralized place with all other project documents instead of in personal email inboxes.
Extending Microsoft 365
When building customizations, such as the SharePoint Framework or some other method of extending the platform, we highly suggest you build your solutions using a development tenant before fully launching into your Intranet. This allows you to test your customization for kinks, do user acceptance testing, and preview some new features of a solution. From there, you can use the app catalog to run the code and deploy it into your site collection. You may also consider using a continuous integration and continuous deployment pipeline to minimize any manual errors that can happen while building custom solutions.
Supporting citizen developers/makers/explorers
Needless to say, building an Intranet requires quite a bit of thought and consideration. The Maturity Model is a great starting point to help you determine your different goals and actions you are going to take during the process. Keep in mind, you may potentially have a whole fleet of individuals in your organization who can help you too. These would be people we consider citizen developers, makers, and/or explorers. They can be a huge asset to you! Be thoughtful about the guidance and empowerment you provide for them so they can contribute to the success of the platform.
All Resources
---
Do you have any questions for us? Continue the conversation on Twitter with the hashtag #AskSympraxis and mention @SympraxisC.